French fries, those heavenly slices of golden bliss, are undeniably a kiddo's best friend, right? I mean, there's nothing that has those tiny eyes spark up like when they see a platter of crispy french fries. Well, guess what, fellow meal wizards? You can now put a fun and healthier spin on this all-time favorite using an air fryer. So, hold on to your chef's hats as we walk down this crispy, delicious lane!
Whoaaa now, if you're one of those who hasn't jumped on to the air fryer bandwagon yet, it's high time, folks! This magical contraption is pretty much like your regular oven but a thousand times more convenient – no kidding! It uses hot air to cook your food, and the best part is, it makes everything – yes, everything, unbelievably crispy without all that fussy oil. It's like having your fryer and eating it too!
But enough about the appliance; let's get to the main attraction, shall we? Making french fries in an air fryer is appallingly easy. Just cut your potatoes into sticks, toss them with a smidgen of oil and seasonings, and send them off into the oven – easy-peasy lemon-squeezy!
If you've got a picky little fussy pant at home, worry not! This method offers the freedom to customize to your heart's desire. Want them extra crispy? Leave them in for a few more minutes. Prefer them slightly soft in the middle? Cut 'em a tad thicker. Wish to dazzle your little crew with some pizzazz? Sprinkle some zesty spice mix and voila! You've got yourself a troupe of happy munchers.
Now, let's address the pink elephant in the room – the question that's boiling everyone's potato, so to say. Are air fryer fries as delicious as the deep-fried friends? Well, I wouldn't pull your leg here – they're different but in a good way! These fries are tasty, a bit lighter on the palate, and honestly, your waistline (and your kid's health) will thank you.
To wrap things up, never forget the power of some reliable dips. They are the superheroes to your french fry villains. Armed with ketchup, mayo or your homemade surprise, these fries will definitely steal the show, and your little food critics' hearts!
So there you have it, my fellow home-chefs, the nuts and bolts of fixing amazing air fryer french fries. Let's march into our kitchens, and prepare a batch of happiness that our kiddos will gush over, all while keeping things delicious and healthy. Happy air frying to all!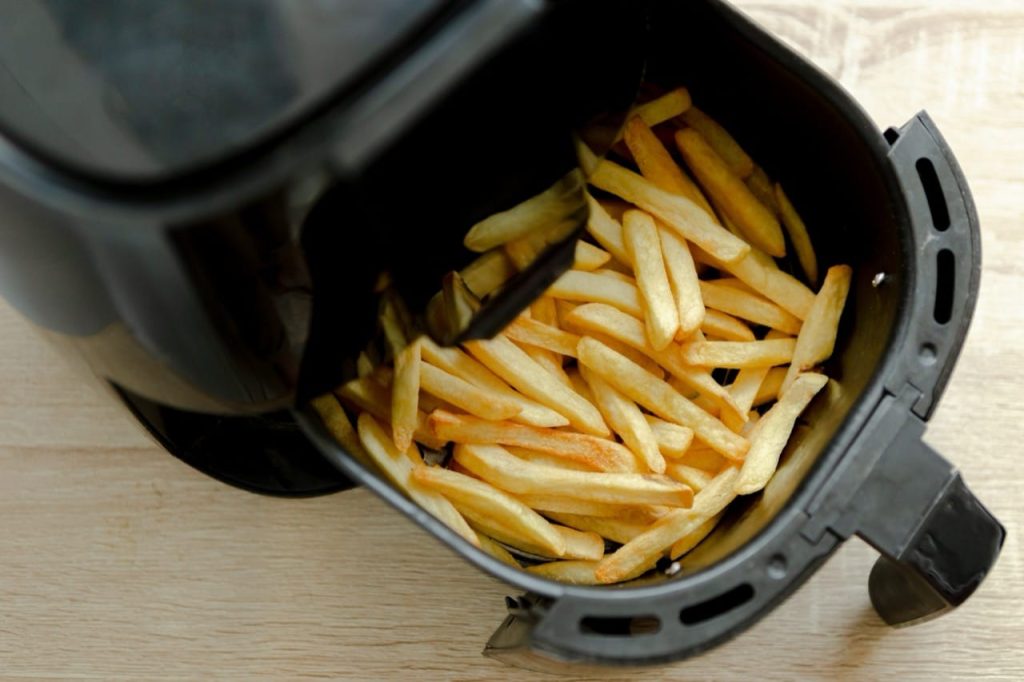 Let's Get Cooking!
Ingredients:
2 large russet potatoes
1 tbsp olive oil
Salt and pepper to taste
Optional: Seasoning of your choice (garlic powder, paprika, onion powder, etc.)
Steps:
Wash and peel the russet potatoes.
Cut the potatoes into matchstick-size strips.
Rinse the potato strips thoroughly under cold water.
Dry the potato strips using a towel.
Toss the potato strips in a bowl with olive oil, salt, and pepper (add optional seasoning if you wish).
Preheat your air fryer to 380°F (193°C).
Once preheated, add the potato strips into the air fryer basket in a single, even layer.
Cook at the set temperature for 20-25 minutes, shaking the basket intermittently.
Check the fries for desired crispiness and cook for a few additional minutes if necessary.
Once done, carefully remove the fries from the air fryer.
Transfer them to a serving plate and, if desired, season with a little extra salt.
Serve immediately with the dip of your choice.
This recipe doesn't involve any type of meat. However, if you decide to accompany these fries with meat, be sure to use a food thermometer to ensure the meat is cooked to its safe cooking temperature to avoid any foodborne illnesses. Meat needs to be cooked all the way through. The necessary temperature varies depending on the type of meat you are cooking. Precise temperature guidelines can be found on reputable food handling and cooking websites. Always be safe when cooking with raw meats!
We think your kids will love it!