Now hold onto your aprons, my foodie pals! Today, we're diving headlong into the sizzling, succulent world of making hamburgers. Ah, the humble hamburger – it's a kiddo's delight, and funnily enough, it's nothing short of a culinary marvel, wouldn't you agree? There's a real art to grilling up a primo patty, slapping it between buns, throwing in veggies and voila, you end up with a mouthwatering marvel fit for your young connoisseur's palate.
I've often said, there's more than one way to skin a cat or, as it goes in our case, to flip a burger. Indeed, it's a hearty dash of creativity that transforms this simple staple into a scrumptious masterpiece perfect for wee palettes. Here at Best Kids Meals, we know just what little taste-buds hanker after, believe you me!
The game's afoot! Let's crank up the heat and sizzle our way into kid-friendly burger territory. Prepping the patties has always been my favorite part of the process. It's like sculpting, you see, where the ground beef takes the form of pliable clay. You can jazz it up any way you like. Sprinkle a dash of hidden veggies, hint of parmesan cheese, maybe a pinch of secret spices, all mixed right into the beef – an out and out 'hodgepodge' of fun!
Next up, the grilling phase. It's crucial to get your timings down pat – overcooked burgers are no better than hockey pucks and rare ones… well, let's just say, leave the tartare to the adults! Here's a clue, folks – patience is the key. Resist the urge to press or flip more than once for the juiciest, tastiest patties.
Then comes the dressing part – a carnival of colors, textures, and flavors! Lettuce, tomato slices, cheese – cheddar, Swiss, or grandma's homemade pickles if you're feeling extra zesty! Or get jiggy with it and add in a fried egg or avocado to rattle the cage a little bit. You'll be surprised how adventurous kids can be when given the reins of their gastronomic journey.
I'll tell you what; nothing quite tops the joy of seeing little faces light up with delight at the sight of these custom-made, handcrafted hamburgers. It's never a bun fight to get them to tuck into these bad boys.
So there you have it folks, the skivvy on crafting the perfect kid-friendly burger. It's easy as pie! It just goes to show that with a sprinkle of creativity, a smidge of patience, and a heap of love, you can dish up a kid-approved feast that's the cat's pajamas!
Remember, the world is your oyster, or in our case, your patty! Cook, experiment, have a blast and keep those little stomachs rumbling for more. Until next time, keep those flames grilling and spirits high! Happy cooking!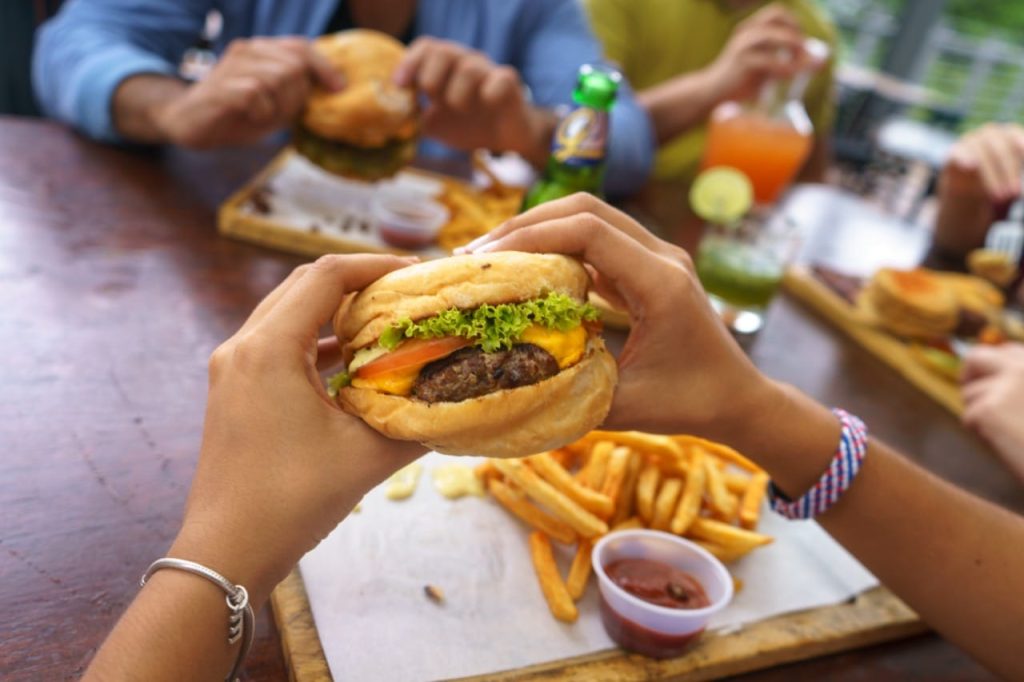 Let's Get Cooking!
Ingredients:
1 pound of ground beef
1 teaspoon of salt
1 teaspoon of black pepper
Half an onion, finely chopped
1 clove of garlic, minced
4 slices of cheddar cheese
4 soft hamburger buns
Lettuce, tomato, pickle slices for topping
Mayonnaise, ketchup, mustard for spreading
Non-stick spray or olive oil for the grill
Recipe Steps:
Get the ground beef and season it with the salt and pepper.
Add the chopped onion and minced garlic to the mix.
Get your hands in there and mix it all together.
Once it's well-combined, form four even patties from the mixture.
Preheat your grill or the broiler part of your oven.
Lightly oil with non-stick spray or a bit of olive oil.
Place the patties on the grill, or if using the broiler, on a broiling rack.
Cook for about 5 minutes on each side or to your desired doneness.
Once the patties are almost done, add a slice of cheddar on each patty and let it melt.
Simultaneously, lightly toast the hamburger buns.
Once everything is done, construct your burgers. Spread mayo, ketchup, and mustard on the buns, add the patty, then top with lettuce, tomato, and pickles.
Safety Notice: If you're prepping the hamburgers with any type of meat, remember to use a food thermometer. This is to ensure the meat is cooked to its safe cooking temperature to avoid food-borne illnesses. According to USDA recommendations, ground meats like beef should be cooked to an internal temperature of 160°F (72°C). Always play it safe in the kitchen!
We think your kids will love it!