Well, howdy foodie friends and fellow mini-meal maestros! Today, we're taking a delicious detour down the breakfast aisle with a recipe that's sweeter than Sundaymorning TV and as playful as a puppy – Mini Pancakes. After all, if you're anything like me, you know the best part about cooking for kids is making every meal a party on a plate.
Besides, who said pancakes should always be as big as a frisbee, huh? Sometimes, good things truly come in small packages. Just like tiny kisses, micro adventures, pocket-sized books, and those cute little toys that come with your kid's meal – it's time to whip up some lip-smacking Mini Pancakes.
Now, I'm no stranger to the dance of the kitchen, but these beauties are so easy-peasy-lemon-squeezy, you'll feel like you're cheating. They're like the younger sibling of the traditional pancake – smaller, cuter, and slightly more adorable. Not to mention, they're a lifesaver for those picky little eaters who turn their noses up at anything bigger than a breadbox.
Ready to get rolling? Strap on your apron and hunt down your spatula, it's time to get flippin' fantastic!
Just start with your regular pancake batter – nothing too fancy-schmancy. Take your time mixing the flour, sugar, and all the other magical ingredients; patience is the secret spice in this recipe. Once your batter is as smooth as a baby's bottom, it's time to let the fun start.
Ever tried sprinkling some sneaky surprises into the mix? Maybe some teeny chocolate chips or a smidge of colorful confetti sprinkles? Trust me, it's the bomb dot com! Each bite becomes a treasure hunt and there's nothing more infectious than that delightful gasp when they find the secret surprise.
No bigger than the size of a silver dollar, these teeny flapjacks are the perfect size for little fingers to grab, dip and devour. Just plop spoonfuls of batter onto your pre-heated griddle, keep a watchful eye, and flip when you see those pesky bubbles start to pop.
And the cherry on top of this pancake party? Keep it traditional with a drizzle of syrup, or let your wild side show with a whirl of whipped cream. As they say, the world is your oyster, or in this case, your pancake.
So there you have it, folks! Mini Pancakes – proof that delicious things come in bite-sized packages, and making great food can be as much fun as eating it. Here's to banishing breakfast boredom, one mini pancake at a time!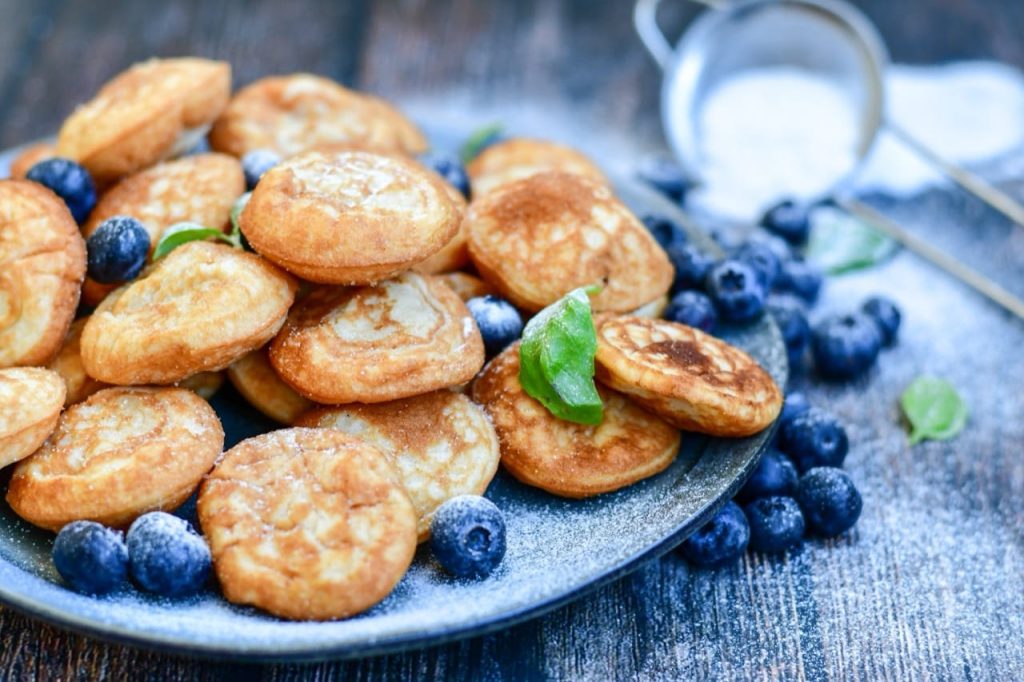 Let's Get Cooking!
Here's the recipe for our fantastic Mini Pancakes:
Ingredients:
1 cup all-purpose flour
2 tablespoons sugar
1 teaspoon baking powder
1/2 teaspoon baking soda
A pinch of salt
3/4 cup buttermilk
1/4 cup milk
1 egg
2 tablespoons unsalted butter, melted
Optional: mini chocolate chips or colorful sprinkles
Steps:
Whisk together flour, sugar, baking powder, baking soda, and salt in a large bowl.
In another bowl, whisk together buttermilk, milk, and egg.
Gradually pour wet ingredients into dry ingredients while continuously stirring until just combined.
Stir in the melted butter and ensure the batter is initially mixed. Then, fold in optional chocolate chips or sprinkles.
Heat a non-stick griddle or skillet over medium heat. Keep some butter handy to coat the surface between batches.
Drop spoonfuls of batter onto the hot skillet. Cook until bubbles appear on the surface.
Flip with a spatula, and cook until browned on the other side.
Serve immediately with your choice of syrup, whipped cream, or fresh fruit.
Remember, if you decide to add any kind of meat to your Mini Pancakes, make sure to use a food thermometer to ensure it's cooked to a safe temperature. This step is vital to ensure its safety for consumption. Happy cooking!
We think your kids will love it!