Gosh! Who'd talk about quick comfort meals without a hearty tip of the hat to our old faithful, mac 'n cheese? Not this chef! An all-time classic, mac 'n cheese, is undoubtedly one of my go-to dishes when I want to whip up something quick, overwhelmingly delicious, and comforting to the soul. It's as easy as pie, worth every second, and it never disappoints!
Now, wait just a cotton-pickin minute before you start thinking, Mac 'n cheese? Really? Isn't that just for kids? No siree, it's not merely a kiddie dish. It's a creamy, dreamy, cheese-laden paradise that can be jazzed up so many ways, everyone will love it!
Here's the thing about mac 'n cheese; it marvelously marries simplicity with flavor. You'd be amazed at how just a handful of humble pantry staples come together in a flash to create a dish that's lip-smackingly good. Before you even know it, you'll be egged on by the exciting aroma of golden, bubbling cheese, teasing your senses and making your stomach rumble!
You start with boiling your pasta – the mac part of our hero dish. I usually say, In for a penny, in for a pound, and go in for a heavy pinch of salt in the boiling water – trust me; it makes a difference! Then we're onto making the ominous cheese sauce. Many of you might think it's a tall order, but let me tell you straight up, it's a piece of cake!
A knob of butter, a sprinkle of flour to make a smooth roux, followed by milk, a generous amount of cheese, and some simple seasonings. Voila! With a little bit of magic, you'll have made one of the most luscious sauces that's ever graced your kitchen stove.
Merge the two together, top with some more grated cheese and bake 'til crispy and ooey-gooey. Oh, mama mia! Wait until you see the faces of your loved ones when they take that first bite – priceless!
Mac 'n cheese, folks, isn't just comfort food. It's love, warmly wrapped in a blanket of cheese. Plus, it's quick and easy to make. So, what are you waiting for? Get cooking! You've got a deliciously rewarding culinary experience literally at your fingertips!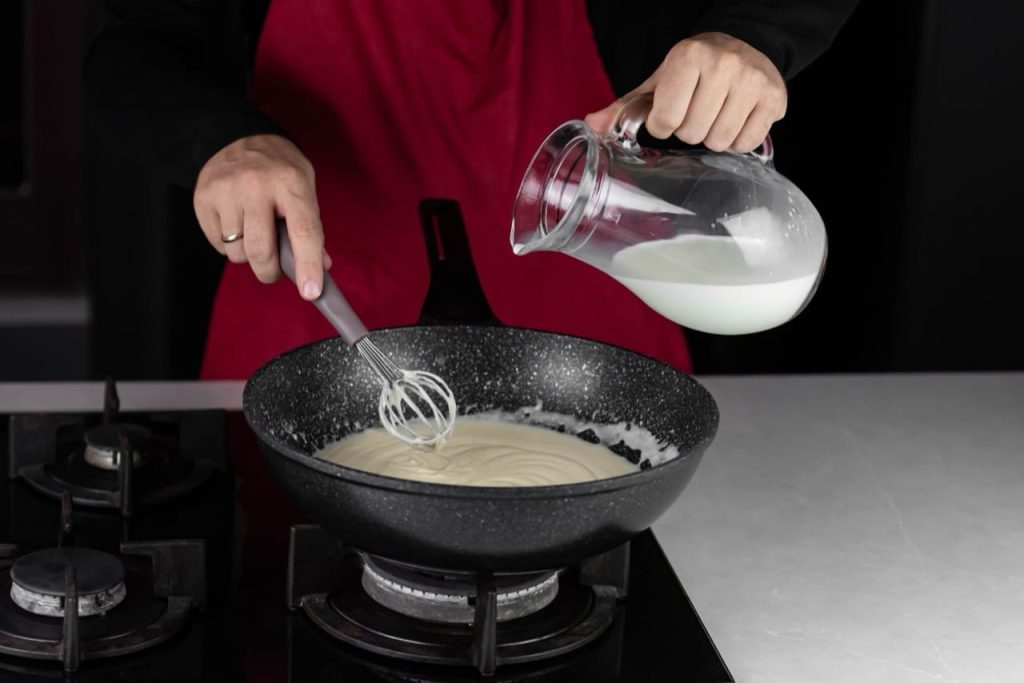 Let's Make It!
"Quick and Easy Mac 'n Cheese Recipe"
Ingredients:
8 ounces macaroni pasta
2 cups shredded sharp Cheddar cheese
1/2 cup grated Parmesan cheese
3 cups milk
1/4 cup butter
2 1/2 tablespoons all-purpose flour
1/2 teaspoon salt
2 tablespoons butter (for topping)
1/2 cup bread crumbs (for topping)
Steps:
Get your oven preheating to 350 degrees F (175 degrees C).
In a large pot of boiling salted water cook the macaroni al dente (firm to the bite). Drain.
In a small saucepan over medium heat, melt 1/4 cup butter. Stir in enough flour to absorb all of the butter. Slowly whisk in the milk, add in salt and increase heat to bring the mixture to a boil while stirring frequently. Reduce heat to low and let the sauce simmer till it thickens and becomes creamy.
Add in 3/4 of the shredded cheddar cheese and all of the Parmesan cheese, giving a good stir until all the cheese melts into the sauce.
Add the drained macaroni to the cheese sauce. Stir until well mixed and all the pasta is coated with the sauce.
Pour pasta into a baking dish, sprinkle with the remaining cheddar and bread crumbs, dot with the 2 tablespoons of butter.
Bake in preheated oven until the cheese on top is melted and bubbly, about 25 minutes. Cool for a few minutes, then serve hot.
Note: This mac 'n cheese recipe can be enjoyed as is or you can add cooked meat for some extra protein. If you decide to mix in any meats, remember to use a food thermometer and ensure it's cooked to its safe cooking temperature, according to the USDA guidelines, before incorporating it into the dish.
That Was Quick!