Hello there, my meal-making comrades! If your house is anything like mine, getting the little ones to enjoy a meal as much as playing with their toys can feel like scaling Mount Everest. But fear not, I've got a fantastic, kid-approved answer to your dinner time dilemma—Flippin' Fun Fish Sticks! Who said fish couldn't be fun?
First off, before you start panicking about the lingering smell of fish wafting through your house, let's dive right into the benefits of this delightful dish. Besides being omega-3 packed goodness, fish sticks are also a great gateway for your younglings to the fantastic world of seafood. Better yet, they are super easy to prepare and quite the crowd pleaser!
Now, I ain't no Martha Stewart, but cooking savory and crispy fish sticks requires just a handful of basic pantry items. And that's right, folks, we'll give the frozen kind a wide berth and rustle up a batch from scratch!
First things first – kiss goodbye to the notion that fish sticks are bland or boring. With a pinch of creativity and a dash of love, these golden goodies will turn dinner time into a fun-filled fiesta. So put on your imaginary chef's hat and let's sail through the fish stick sea together!
Fish, breadcrumbs, eggs, and some salt and pepper are the main players here. Yeah, it's not rocket science, more like pie! Simply dunk the fish in whisked egg, roll 'em in the breadcrumbs, and get frying!
Now hang on a minute, safety Sally's! Here comes the hot oil part! So ensure the kiddos step aside when you're manning the frying pan. Once the oil's sizzling hot, slide in the prepared fish sticks gently. Keep the heat on medium, and cook 'em until they're golden brown. A quick flip on each side and voila! You've got yourself a mouthwatering meal that would have Captain Nemo asking for seconds.
Finally, serve up these crispy wonders with your tot's favorite dip—ketchup, mayo, you name it. Throw in a side of boiled veggies or coleslaw, and we've got ourselves a winner dinner! Don't forget to share a few laughs and funny fish stories while you're at it; after all, the most delicious ingredient is always a dollop of joy!
So there you have it, folks! The secret to making dinner time the most anticipated event of the day is pretty simple. And hey, if your little ones pitch in and help, that's an afternoon of fun rolled into a tasty snack! Fish sticks – easy as pie, twice as tasty. Give it a try, and let me know how it goes!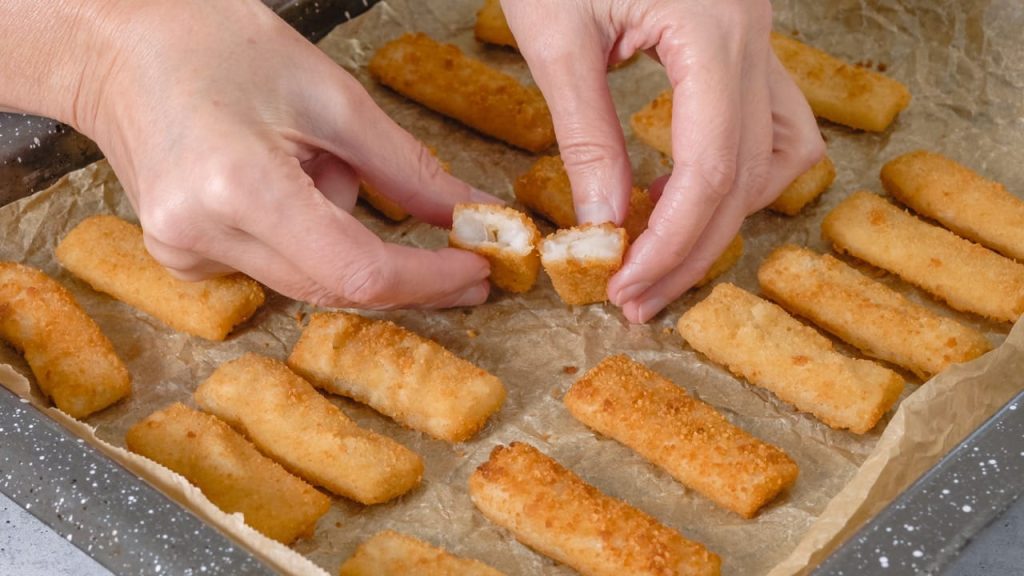 Let's Get Cooking!
Ingredients:
500g white fish fillets, like cod or haddock
1 cup breadcrumbs
2 large eggs
Salt and pepper to taste
Cooking oil, for frying
Lemon wedges, for serving
Your choice of dip – ketchup, mayo, tartare sauce etc.
Steps:
Start by patting your fish fillets dry with a clean kitchen towel. Cut them into neat, kid-friendly sticks.
In a shallow dish, mix together breadcrumbs, salt, and pepper.
Crack the eggs into another dish, whisk until slightly frothy.
Dip each fish stick first into the beaten eggs, ensuring it's fully coated. Let excess drip off.
Roll the egg coated fish sticks in the breadcrumb mix, pressing gently to adhere. Make sure all sides are well covered.
Heat the cooking oil in a frying pan over medium heat.
Add the breaded fish sticks to the hot oil, be careful not to overcrowd the pan.
Fry until golden brown on all sides, roughly about 2-3 minutes per side.
Remove the golden crispy fish sticks and place them on a paper towel to soak up excess oil.
Serve hot, with a squeeze of lemon over the top and your favorite dips on the side!
Remember, whenever you cook with any sort of meat, using a food thermometer to ensure it's cooked to its safe cooking temperature is essential. In the case of fish, it should reach an internal temperature of 145°F (63°C) to be safe to eat. Let's keep our kitchen healthy and safe!
We think your kids will love it!