Howdy, foodie friends! Let's gather round the kitchen, because today I've got a delightful little number that's going to have even our miniature critics singing our praises. Yes, you heard it right! It's time to break out the wok and get your little mini-me's taste buds dancing with one of my all-time favorites – a seriously simple, super yummy Chicken and Vegetable Stir-Fry.
Now, I hear you saying, But folks won't eat their veggies! Well, I've got news for you, my dear friends. This sizzling sensation is gonna have bellies rumbling and faces lighting up at the dinner table faster than a cat on a hot tin roof.
First off – let's have a chinwag about our star attraction, the chicken. We're going to need boneless, skinless chicken breasts for this recipe. I recommend going for the highest quality you can muster up. After all, when it comes to feeding your little ones, quality is king.
Next up, the flawless supporting cast – the vegetables. Let's dive into the rainbow, shall we? Classic, crunchy bell peppers with vibrant green broccoli and snap peas and, for a splash of glamour, some sweet baby corn on top. Go with whatever mix your ankle-biters will devour.
Don't worry, we're not throwing a wrench into the works here. Making stir-fry is a walk in the park. It's as easy as pie – trust me! Give your chicken a quick sizzle, toss in your veggies, shower with some soy sauce, and let the magic happen.
Here's the showstopper – let your young'uns get involved with the preparation. Shelling peas, tearing up the broccoli, even laying out the table. Engagement is key, especially when dealing with picky eaters. The more invested in the meal they are, the better chance they'll wolf it down without a second thought.
Remember, it's all fun and games until someone burns the stir-fry, so keep that fire on medium heat and your eye on the prize.
Alright, my lovely bunch, grab those chopsticks and dive into a hearty, wholesome Chicken and Vegetable Stir-Fry. It's so simple and delicious; it'll become a firm family favorite faster than you can say chow down! So folks, let's stir the pot a little and turn those fussy eaters into happy customers.
Happy cooking, food lovers! Till the next time, keep those pans frying and the good times rolling!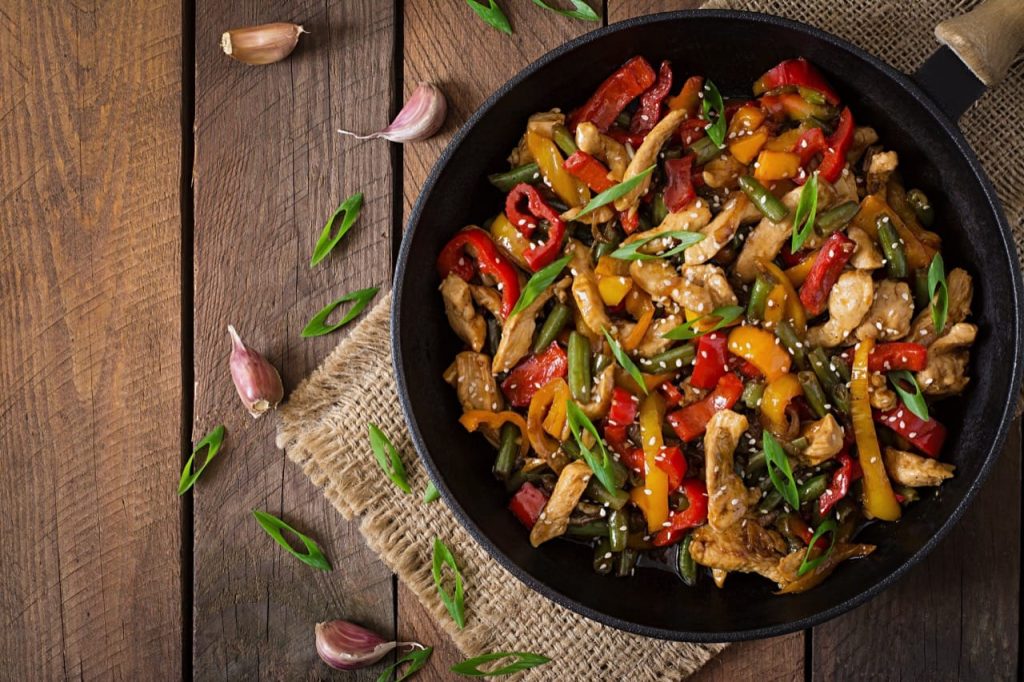 Let's Get Cooking!
Ingredients:
2 boneless, skinless chicken breasts, thinly sliced
2 cups of assorted vegetables such as bell peppers, broccoli, snap peas, and baby corn
3 tablespoons of soy sauce
2 tablespoons of olive oil
Salt and pepper to taste
Recipe:
Heat up your wok or large frying pan and add the olive oil.
Once your wok is sizzling hot, add the chicken slices and season with a bit of salt and pepper.
Stir-fry the chicken until it's golden brown and almost cooked through.
Add the assorted vegetables to the wok with another dash of salt and pepper.
Keep stir-frying until the vegetables are tender but still crunchy.
Pour in the soy sauce and give it all a good stir for about a minute.
Serve your Chicken and Vegetable Stir-Fry hot and fresh out of the wok and enjoy.
Remember, safety first! Always use a food thermometer to ensure that the chicken is cooked to its safe cooking temperature, which is 165 degrees Fahrenheit (74 degrees Celsius). Nutrition is about more than just feeding your family; it's about thriving. Following these simple steps will not only set you on the path to becoming a stir-fry superstar, but it will also help keep your family safe and healthy. Happy cooking!
We think your kids will love it!