Hello, fellow food adventurers! Have you ever tasted nostalgia? If you haven't, you're in for a treat. Today, we're traveling down memory lane by giving the beloved classic, chicken noodle soup, a kid-friendly twist. And trust me, it's so tasty that you'll be lapping up the leftovers (if there are any)!
Now, I know some of our tiny food critics can be a little finicky. Lord knows my brood could give Gordon Ramsay a run for his money. But the secret to chicken noodle soup – my secret – is all in the love you stir into it. I'll throw in a bit of wisdom here, too. Remember, the path to a fussy eater's heart is often via a fun and easy meal. So, strap on your aprons, give your wooden spoon a twirl, and let's get cookin'!
First off, I prefer to kick things off with a handful of veggies. But shhh, don't let your little ones hear that, wink wink. The job here is to smuggle in those nutrition bombs under the cover of delicious broth. Carrots, celery, and onions are my usual partners in crime. They lay a beautiful foundation that will make your soup sing with flavor.
Next, fetch some tender chicken, because let's face it, what's chicken noodle soup without the chicken? Sprinkle Joe's jingling spice mix on it—it's my personal secret—and watch your kitchen come alive with mouth-watering aromas. Cook until it's striking that perfect balance between juicy and oh-I-can't-wait-to-gobble-it-up, chop it up and toss it into the mix.
The noodles come next, those long, slithering symbols of fun. I usually choose the ones shaped like cool characters or animals—the grocery store's full of them! They guarantee a giggling fit from the little ones and add a touch of whimsy to our dish that even adults can't resist. I mean, who can say no to slurping down dinosaur-shaped noodles?
While waiting for the magic to happen in your pot, feel free to engage in a quick game of catch-me-if-you-can with your kids. The soup needs to simmer a bit until it's perfect, and that gives you just enough time to squeeze in that dose of play.
Ding! Here's the timer! Our hearty bowl of chicken noodle soup is ready to warm bellies and hearts. So, gather round the table, share childhood soup tales, and bask in the golden glow of this timeless classic. Because, at the end of the day, a good old fashioned chicken noodle soup isn't just a meal, it's a memory waiting to happen.
So, kids and adults, dig in, enjoy, and remember, every soup is a story, and this one's sure to be a good one! Let's cook, eat, love and create those nostalgic moments with Best Kids Meals. Bon Appétit!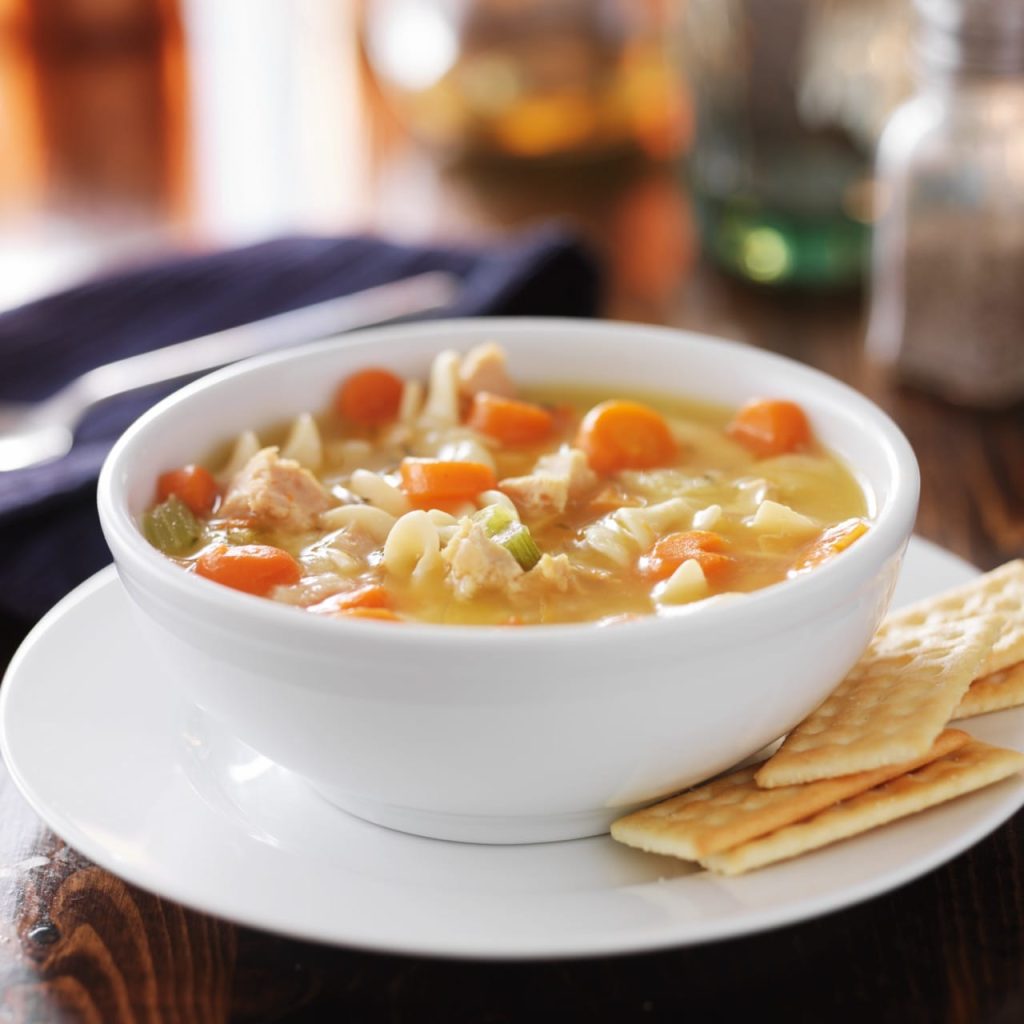 Let's Get Cooking!
Ingredients:
2 tablespoons of extra-virgin olive oil
1 medium onion, chopped
3 garlic cloves, minced
2 medium carrots, cut diagonally into 1/2-inch-thick slices
2 celery ribs, halved lengthwise, and cut into 1/2-inch-thick slices
4 fresh thyme sprigs
1 bay leaf
2 quarts of chicken stock or bone broth
8 ounces of dried wide egg noodles
1 1/2 cups of shredded cooked chicken
A pinch of salt and fresh ground black pepper
Chopped fresh flat-leaf parsley for garnish
Steps for Recipe:
Get your pot nice and hot by heating the olive oil over medium heat.
Introduce the onion, garlic, carrots, celery, thyme, and bay leaf.
Stir it up until the vegetables are softened but not browned, for about 5-6 minutes.
Time for a splash! Pour in the chicken stock and bring the liquid to a boil.
Let it simmer over medium-low heat for about 10 minutes.
Add the noodles and allow the soup to simmer for 5 more minutes until the noodles are tender.
Boost the flavor! Toss in the cooked chicken, and continue to simmer for another couple of minutes until it's heated through.
Add a little sprinkle of salt and pepper for that optimal taste.
Ladle the soup into bowls and garnish with a flourish of parsley before serving.
Remember, when cooking meals with meat, including our lovely chicken for this soup, always ensure the meat is fully cooked to its safe temperature. Using a food thermometer will help you determine if your chicken is ready. According to the USDA, chicken should be cooked to a minimum internal temperature of 165°F (73.9°C) to ensure its safety. Food safety is as crucial as taste in creating marvelous meals!
We think your kids will love it!