There are some dishes that your kids will love to eat and also help you to make. We all know feeding kids is a pure challenge, so having them help you out can definitely speed things up a bit. It can also be the time when you have fun together, and they will also learn a lot of stuff when it comes to cooking.
1. Asian Fish Cakes
Among all children's dishes, this one presents the codfish in a bite-sized fun way. Believe it or not, the stubborn kid will also get encouragement after seeing the decoration. It really tastes fabulous.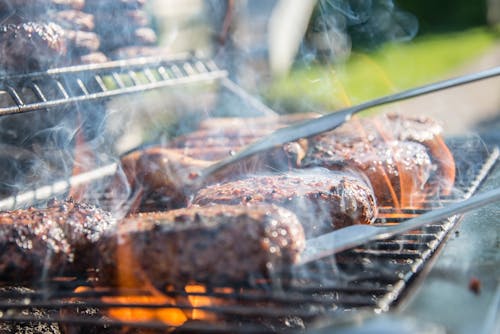 2. Grilled Meatloaf Burgers
You won't find any kid who doesn't love to have some meatloaf. If you serve these smoky, delicious sandwiches, these will satisfy your kids in no time. Keep your ears sharp as you will hear only praise after serving this.
3. Creative Dishes: Quesadillas
There can be many picky eaters, but when it comes to quesadillas, all will love to enjoy it. Yes if you haven't made these delicious quesadillas yet for your kids, then you should make it. Your kiddos will love to enjoy this dish.
4. Crispy Chicken Fingers & Apple Fries
Everyone loves to bite into crispy baked chicken fingers. Along with it if you serve some freshly made apple fries, the combination is just right. Kids will have both without complaining.
5. BBQ Chicken
That BBQ sauce and chicken covered in it is itself so drooling for us adults. So why won't it attract the kids? You can make these drooling chicken recipe anywhere with your kids. They will finish eating quickly as this is an amazingly tasty and fulfilling dish.
6. Pepperoni Pizza Pockets
My kids love to have these hot pockets. I make these pockets at my home instead of buying them from frozen-food aisle. You can make it with fresh cheese, pie crust, and pepperoni. That's it. As you are making it at your home, you know what is going inside these pockets.
7. Creative Dishes: Cheesy Corkscrews
If your kids finish the cheesy macaroni, they will also love this cheesy corkscrews recipe. The special touch into the recipe comes from a good amount of crunchy bacon served on top. The corkscrew pasta with cheese and pieces bacon can make anyone hungry.
8. Kale Chips
You don't have to make these chips in front of your kids. Make it when they are not at home. They shouldn't acknowledge that these chips are made from kale, before eating the chips. Otherwise, they won't want to take a bite. But once they eat it, they probably won't want to eat potato chips. It is great news, right! I also experienced so. My two kids just love it any time I make them.
9. Creative Dishes: Vegetable Lasagna
Unlike the chicken lasagna, this recipe has red peppers, spinach, zucchini, and mushrooms. If you have the leftovers in your freezer, it will still make some healthy dinner for today. It is easy to make and homemade, healthy alternative.
10. Mac & Cheese With Spinach & Feta
Picky eaters may have voted your Mac and cheese dish previously, and they loved it. Now you can try that with feta cheese and spinach. It will be creamy, healthy and kids will also approve that delicious green Mac and cheese recipe.